15 Upcoming Trends About Web Development
Web development trends are constantly changing. For your business to take advantage of all the benefits of technology, you need to implement them in the early stages, and not after competitors. Today we will talk about the main trends that should not be missed in 2018.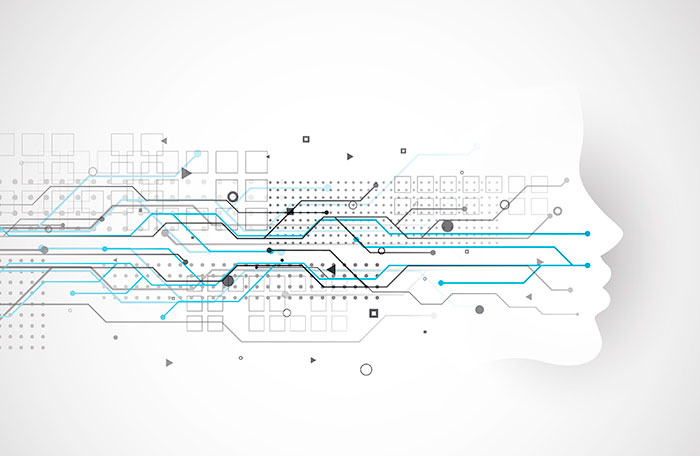 Chat bots, AI and machine learning
Improving user experience is the goal of every site owner. Answering a question and helping to achieve the ultimate goal is equally important for maintaining loyalty. Now the business employs and maintains whole armies of consultants to support 24/7.
The future allows to solve these problems using AI and machine learning. The latest trend is smart chat bots that can guide visitors and provide them with instant help.
Chatting with chat bots spreads every day, adapts to social networks and e-commerce sites, mobile applications and other virtual platforms.
In 2018, AI and machine learning will reach new heights and will be able to solve more complex practical problems. The computer is already helping users make transactions, respond to requests and redirect them to the right sections of the site, replacing the live consultant
Some platforms, such as Facebook, Twitter, Amazon, Netflix and Google, have invested heavily in artificial intelligence and machine learning. Sooner or later, these web development trends will radically change the world around us
Virtual and Augmented Reality
The rapid growth of access to high-speed Internet has opened up the world to man, where videos are the main form of content. In 2017, technologies of 360-degree video, 360 images, virtual reality and interactive videos were spread.
So far, these technologies have not declared themselves in full force due to the high cost and difficulties in implementation, but the near future will become the era of 360-content. For business, this means virtual shopping tours, a sharp UX leap and increased sales. In the meantime, in the yard in 2018, web developers can run in a novelty on popular video hosting sites.
Many websites, such as Google, YouTube and Microsoft, are introducing virtual reality. Interactive videos have become hits videoblogs, and virtual reality in the near future – we are absolutely sure – will turn into the main form of video.
Internet of Things (IoT)
The world of smart gadgets – the Internet of Things – unites a network of electronic devices that help your users to improve their life. IoT devices use smart light bulbs, smart cameras, automatic gates, shower stalls, and even refrigerators that order delivery of their favorite products instead of the owner.
How does this relate to web development? The whole world of IoT connects to commercial websites and interacts with them for the user's comfort. Although there are only a few IoT websites in the world today, analysts are predicting growth in this segment.
Progressive web applications
Currently, mobile devices use more than half of Internet traffic. Applications make the greatest contribution to traffic management, because through them it is much easier and faster to access sites. The share of mobile applications accounts for 89% of mobile time, and this figure continues to grow!
Progressive web apps, or progressive web apps (PWA), are very similar to mobile apps, but are web pages in nature. They combine the benefits of web technologies and native applications. In particular, the ability to work offline, fast download times, reliability and push notifications.
Unlike conventional applications, PWAs require less development time and are easy to maintain. The market of classic mobile applications is oversaturated and, consequently, loses its appeal. PWA can be a great alternative!
Mobile friendly
Even if you do not plan to create PWA, make sure that the site designed for you is mobile friendly. In other words, equally comfortable and functional on all devices.
For the sake of mobile users (the share of which exceeds the number of desktops and is growing at a rapid pace), many elements need to be optimized – images, animation, layout, fonts – and also comprehensive testing of the mobile version of the site
Blockchain for web development
Blockchain is an innovative technology that can change the web industry.
It allows users to store data in different places on thousands of computers around the world. In addition, no intermediaries are required to complete the transaction. This reduces the number of parties involved and greatly simplifies any data operation.
Each transaction is verified using sophisticated algorithms executed by hundreds of computers, thus ensuring the security and reliability of the data. Even today, many well-known banks and multinational corporations plan to use the blockchain in their work.
Push notifications
Push notifications are a relatively new trend in web development, which is used in mobile and web applications. It helps businesses increase sales and content viewing, increasing user engagement at no additional cost.
Motion UI
Smooth animation is a must on the site. It is expected that in 2018 this trend of web development will continue to gain popularity. In this case, both the GIF animation and the Motion UI work. Moreover, Motion UI is more favored by developers – you can animate their content with it without suffering from JavaScript or jQuery
Voice user interface
Voice user interface Voice assistance is quite popular these days, as it is now available on tablets, smartphones and many other devices. You've probably heard about these brands – Siri, Cortana, Google Now, Alexan and many others. This trend is beginning to take over our segment of the Internet.
Smart voice interfaces are able to understand and execute complex commands. A machine learning user interface can predict user needs and provide them with new experiences. It is important that the content "speaks" with the user and meets his needs.
One-page websites
Today, the era of one-page – compact projects, where the most important elements of the site are placed on one long page. In this case, users can scroll or use links to go to one or another section.
The advantage of a single-page is convenience for mobile users: why buttons if you can scroll with a smooth movement of your finger? This works great for desktops and laptops with a touchscreen. Another plus is simplicity and low development cost.
Focus on images
Photos get a much better response than text content – which is why images are necessary for any website or blog. The reason is simple: visual images convey information faster and in a more accessible way than text.
The right image helps to attract new customers and increase sales. You can use unique author photos, infographics, pictures. The main requirement for images is the uniqueness and correct descriptions for search engines.
Site security
Website security is very important, especially for commercial projects that operate with personal data and payment details of their users. The current web browsers warn about unprotected sites, and search engines have long preferred sites on HTTPS. Therefore, security gaps can be costly for your business.
Denial of flash sites
In addition to the introduction of new technologies, developers time to abandon the old.
One of these rudiments is a flash site. Bright flash animation was popular in the past, but today it is hopelessly outdated and is no longer supported by modern browsers. Last year, Adobe announced that it would not update or distribute the corresponding plugin after 2020.
If you have a flash site, now is the time to order a new one.
Responsive web design
According to experts, the concept of responsive web design (RWD) will evolve towards usability and architecture. RWD provides versatility on all platforms and browsers, so there is no need to develop a separate website, say for smartphones and desktops.
Google Map Integration
Integrating Google Maps on a website is not new. But this trend will continue to gain popularity. The Google Maps API offers a variety of tools and space to host dynamic visual and personalized map ideas so that each web developer can create an individual, stylized map from scratch for their website.
Minimalist design with large fonts
Simple solid backgrounds and high-quality photos with large sizes and concise, concise content. All this is minimalist web design in 2018, which is followed by the world's leading brands. This year's modern website will not require an excess of tabs and texts.
Galleries and slide shows on the site
Image galleries and slide shows have stood the test of time, like good storytellers. Of course, there are designers who abuse these elements, but in general, a slide show is a fantastic tool that enlivens the atmosphere of your website. It is particularly widely used to visualize complex things and emotional stories.
Translucent "ghost buttons"
The so-called "ghost buttons" became widespread in 2014, but designers consider them relevant to this day. Hollywood FX teams, iOS 7 and Bootstrap have become major factors in their popularity. Minimalist and elegant, translucent buttons seem
unobtrusive, performing their function and not interfering with the understanding of the web page.
The main advantage is that any web developer can create interactive "ghost buttons" and integrate them into any basic element, without spending many hours customizing the visual theme. Ghost buttons are easily designed and embedded in the design, bringing their own aura.